Autobody welding is vastly different from any other type of welding machine. In fact, many people do have problems with it and it is clear that one needs to understand it first before actually being able to do it.
Experts will understand that this way of welding greatly differs from, for example, welding bridge girders or thick plates.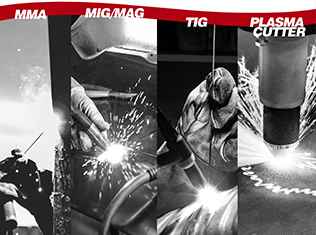 It takes special skills to do it, but also the right kind of equipment as well. Thus today we want to talk to you about different types of welding machines that are used in autobody work. With our help, you will be able to understand how to use and implement the best methods in dealing with this type of welding.
The Perfect Power TIG-150C Tig Welding Machine TIG and Cold TIG 150amp 1ph 220V
Perfect Power TIG-150C welder is their latest fourth-generation digitally controlled multi-process inverter welder and in my opinion the best welder for auto body.
As opposed to the previous models, this one is designed to be extremely versatile.
It is both a stick (arc welder), TIG, and MMA welder as standard but comes with added capabilities.
It offers DC TIG, Cold TIG, MMA, and Clean function modes. Opposing multi-process welding units do not come with Cold TIG and TIG welding options, giving the TIG-150C TIG welder an advantage.
More so, it allows the user to choose between a touchless, high-frequency start or a lift start when using TIG mode. Furthermore, the stick mode provides additional adjustability with hot start intensity and hot start duration controls.
2.MIG-230 MIG MAG IGBT Inverter Welding Machine
The MIG-230 MIG welder 220V offers Double-pulse MIG and Flux-cored welding, the Best welder for thin metal welding, User-friendly, and Ideal for industry or workshop use.
MIG-230 double pulse MIG welder review this welding system can be used as either a MIG or flux-cored welder. It's also a high-power unit designed for welders that already have the skills. It offers features that allow the welding operator to customize the workflow with specifications as required.
For beginner welders, we would recommend starting out with a smaller machine. This system would work best in a workshop or a light industrial capacity.
It's a tool for welding steel, stainless steel, and aluminum and it's capable of welding thickness up to 0.35mm in a single pass. However, to weld aluminum, you will need to purchase the optional spool gun. The thickness range for welding aluminum is 10mm gauge to 0.4mm.
The MIG-230 double pulse MIG welder operates on 230V of input power. So keep in mind that it's not suitable for household outlets and it's better suited for jobs at industrial sites, large workshops, or garages.
The unit also offers a duty cycle of 60% at 220A, which is definitely a benefit when time is of the essence. This means that operating at 220A you can weld for 6 minutes before you need to stop so that the machine can cool down.