The TIG-315P AC/DC TIG welder is an inverter-based TIG welding machine that utilizes the most advanced inverter technology. IGBT circuits along with PWM technology, along with the greatly reduced size and weight, enable this welder to not only be more efficient by 30% but also as a result of the electronic circuitry, enables this AC/DC TIG welding machine to afford the user far more and better range of settings for each specific weld. It is capable of both HF TIG and Stick welding. The TIG-315P AC/DC TIG welder is capable of welding with either AC or DC current. This allows the user to choose DC current welding for carbon steel, stainless steel, copper, and many other metals, while also being equipped with the ability to switch over to AC welding commonly used in welding aluminum and aluminum alloys, magnesium, and even TIG brazing. The new Memory Function allows users to save presets for all their most often-used welding settings.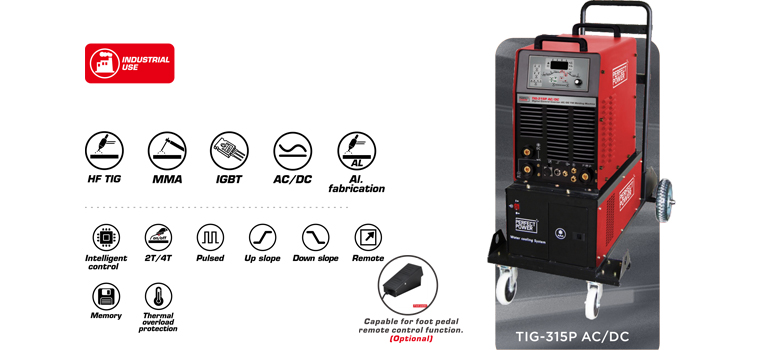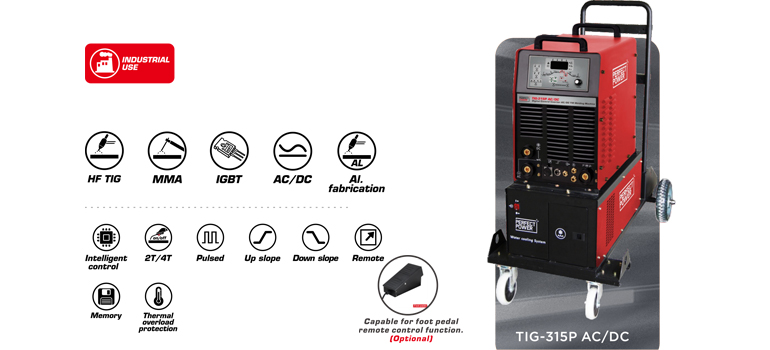 TIG-315P AC/DC TIG welder is the flagship 315 amp version of our extremely popular AC/DC TIG welder that goes beyond simply welding steel and aluminum and is ready for the welding demands of thicker metals.
The model TIG-315P AC/DC TIG welder is also a digitally designed TIG welder equipped with full-function TIG welding features found on machines priced much higher.
Start and end amps, upslope, downslope, fully adjustable pulse, AC balance, AC frequency. 2T-4T, and now on our 315 amp version a memory function as well as a rear electrical receptacle to accommodate our optional liquid cooler.
Excellent Professional design "best in the business" – Capable for foot pedal remote control function.
Also, fully capable MMA stick welding function in either AC or DC with stinger included. A water cooler and heavy-duty welding cart are included.
Features
Multi-function welding – AC TIG, AC pulsed TIG, DC TIG, DC pulsed TIG, MMA, and Auto welding.
Digital control technology and one-knob intelligent control panel.
Thanks to the high frequency & high voltage arc ignition circuit, it realizes excellent arc starting with a 99.9% success rate, especially suited for different types of spot welding.
Pulsed welding with adjustable pulse frequency, achieving high-quality welding of thin metal sheets, dissimilar metal, materials of different thicknesses, and even the requirement of double-sided forming welds.
Adjustable clean width and clean scope.
Optional torch with amperage control & optional foot pedal switch.
Intelligent over-voltage, low-voltage, over-current, and over-heat protection, safe and reliable.