Perfect Welders' MIG-280P MIG Welder is a versatile powerhouse that seamlessly blends advanced technology with practical functionality. As a professional welder evaluation engineer, I've thoroughly examined this welding machine, and here's my comprehensive review.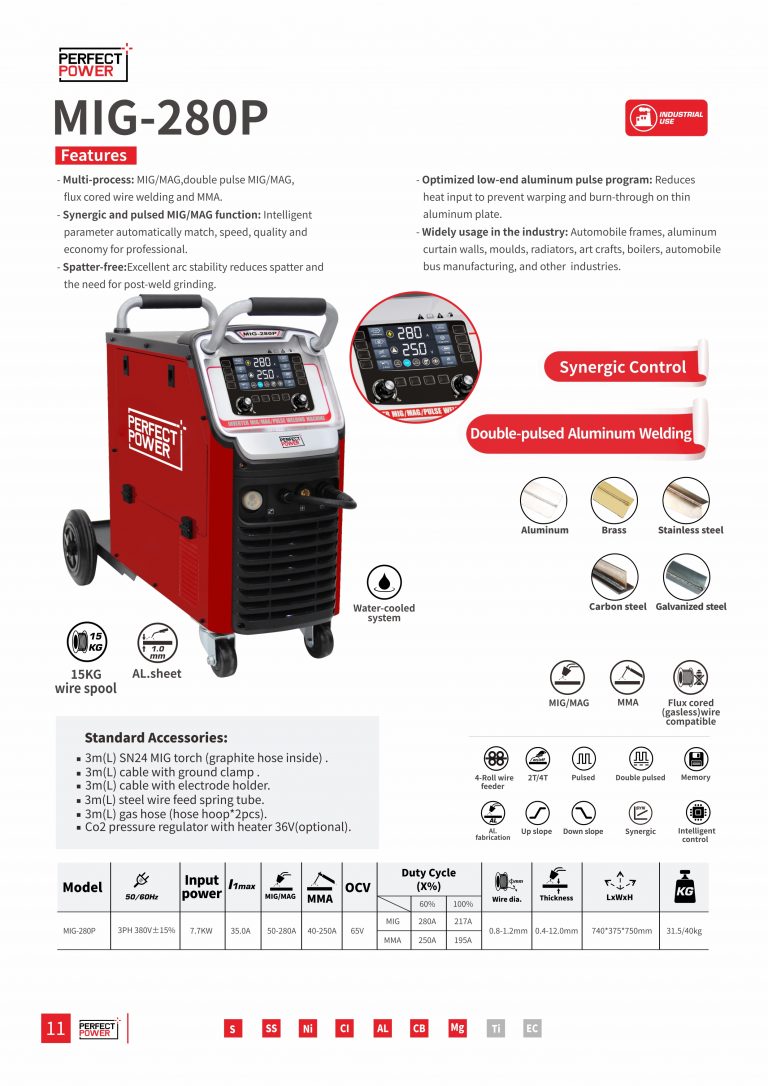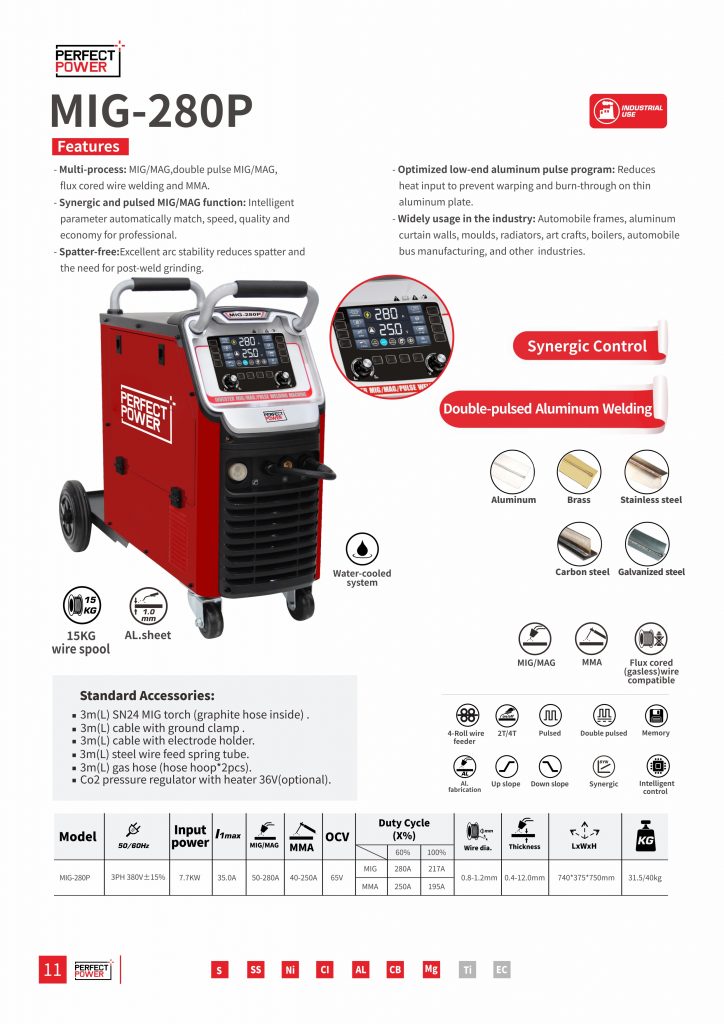 Performance and Power: The MIG-280P operates on a robust 3-phase 380V power input, providing a reliable and consistent energy source for various welding applications. With a maximum load power capacity of 7.7 kVA and a rated current input of 35 A, this welder demonstrates impressive power capabilities. The welding current range from 50 to 280 A allows for flexibility, accommodating a wide range of welding tasks.
Innovative Features: The welder boasts a range of features, making it a standout choice in the market. The patented digital control software technology ensures precise and efficient welding. The synergic function enhances user experience by automatically adjusting parameters for optimal performance. Welding parameters memorization adds convenience for consistent results across projects.
Versatility in Welding: One of the MIG-280P's strengths lies in its multi-functionality. Supporting MIG/MAG, Pulsed MIG/MAG, Double Pulse MIG/MAG, FLUX CORED Wire welding, and MMA, it caters to diverse welding needs. This versatility extends to welding various materials, including thin and moderately thick metals. The double pulse function, specifically designed for spatter-free welding, makes it an excellent choice for aluminum welding.
Safety and Reliability: The inclusion of overload protection, loss-phase protection, and lack-voltage protection underscores the MIG-280P's commitment to user safety. These features not only protect the machine but also ensure a secure working environment.
Construction and Design: Built with durability in mind, the MIG-280P features an IP21 rating, safeguarding against dust and moisture. The F insulation grade adds an extra layer of safety. The welder's weight of 31.5 kg contributes to its portability, making it suitable for various job sites.
Conclusion: In conclusion, the Perfect Welders MIG-280P MIG Welder impresses with its combination of power, precision, and innovative features. Whether you're a professional welder or a hobbyist, this machine's versatility and reliability make it a valuable addition to any workshop. The advanced technology, safety features, and thoughtful design all contribute to an exceptional welding experience. If you're in the market for a high-performance MIG welder, the MIG-280P is undoubtedly worth serious consideration.
For more information or to purchase the MIG-280P MIG Welder, visit Perfect Welders.
Customers say:
Great value for the price
This is my first welder and I haven't welder in 10 years, but it was easy to use and worked well. I only used the flux core process but will use the stick and mig in the future. It can do left tig but I have not tried that either. To weld up this exhaust I probably welded 8 to 10 ft based on all the connections. The only thing I didn't like was the wire feed speed in meters per minute.
La máquina definitiva
Necesitaba una soldadora para un proyecto de bricolaje pero después de probarla un par de semanas, me estoy planteando dedicarme profesionalmente a soldar.
No tenía grandes conocimientos de soldadura y cero de MiG, por eso mismo necesitaba una máquina sencilla e intuitiva que me ayudara y creo que esta es la mejor opción.
Tiene una gran pantalla en la que puedes hacer los ajustes necesarios para conseguir una soldadura perfecta con la ayuda del modo synergetic aún sin tener conocimientos previos del sector.
Es muy peque y liviana para la potencia que tiene y el modo suspensión por inactividad…. Una pasada. Al rato de no usarla, se apaga el ventilador y puedes seguir escuchando tu emisora favorita o, en mi caso a mi pareja gritándome por algo.
Viene muy completa, hasta con repuestos para no tener que preocuparte de los " consumibles " y al verla y usarla da esa sensación de producto de calidad que todos estamos buscando. Los enchufes encajan perfectamente, los botones responden y las ruedas giran firmes y sin variaciones.
Por último, la comunicación con el vendedor inmejorable. Tuve un par de dudas que me solucionó en el día vía WhatsApp. Esto me dio mucha confianza en el producto y me terminó de convencer de hacer esta valoración y de recomendar esta pedazo de máquina.