2-IN-1 Stick Welder with Lift TIG, 110V/220V 160Amp MMA ARC Welder Machine, IGBT Inverter Digital Display LCD MMA Welding Machine with Hot Start Arc, Efficient for 1.6mm-5.0mm Welding Rod
220V MMA Welder, 160A ARC Welder Machine is a great value for home DIYers, which will enable you to obtain a professional finish in welding, car bodywork, and many other thin steel welding processes. With this welding tool, you can experience so many advantages of the MMA welding process.
PRO:
STABLE CURRENT
Voltage accurately matches and adjusts the current to ensure stable current output, and prevent overload conditions, and the multiple processing protection mechanisms improve welding efficiency and ensure your safety.
HIGH-EFFICIENCY FAN
High-performance fully mute fan motor with instant cooling function, promoting body heat dissipation. The synchronous control system provides protection mechanisms.
STURDY DESIGN
The high-intensity body has structural strength and durable characteristics, with multiple solid frames of the solid handle, easy to get and store, suitable for daily and professional work and other scenes.
MULTIPLE PURPOSES
The machine is equipped with high-efficiency welding technology and can be widely used in automobile manufacturing, plumbing work, metal processing, strict construction work, site work, high-quality welding, and thin material precision welding.
Upgraded IGBT Inverter Technology: Perfect Power MMA Welder 160 Amp is capable of welding mild steel, steel, stainless steel, and cast iron with Stick/TIG function. The advanced IGBT power device with a unique control mode improves the reliability and efficiency of the welding machine. Good choice for DIYers, welding hobbyists, and home maintenance chores by using 1.6mm-5.0mm welding electrodes.
Easy to Use: Perfect Power arc welder machine adopts an automatic shut-off protection mechanism that is set internally to prevent overheating, over current to make sure safe operation via indicating lights. The LCD display is easy to read, and this arc welder is so easy to use that it can be used by novices for practice and for small welding operations to become a master welder.
Energy Efficiency: The stable current from the most advanced IGBT tech, makes the welder reduce the damage of copper and iron, obviously increasing the welding frequency, and the energy optimization result is remarkable. Voltage accurately matches and adjusts the current to ensure stable current output, and prevent overload conditions, and the multiple processing protection mechanisms improve welding efficiency and ensure your safety.
Portable Design: Perfect Power Arc welding machine features an easy-carrying handle, a compact lightweight body, and a protective corner case design. The lightness and strength of its components make this welding machine a reliable welding tool for professionals or DIY use, no matter for your work indoors or outdoors.
12-Month Warranty: Each Perfect Power stick welder machine undergoes strict inspection before leaving the factory to ensure it performs to the exceptionally high standard we set! Every semiconductor, attachment, cable, electronics board, and all spare parts are thoroughly examined and tested for strong durability. If you have any problem with our welder, please feel free to contact us, and we will answer it within 24 hours.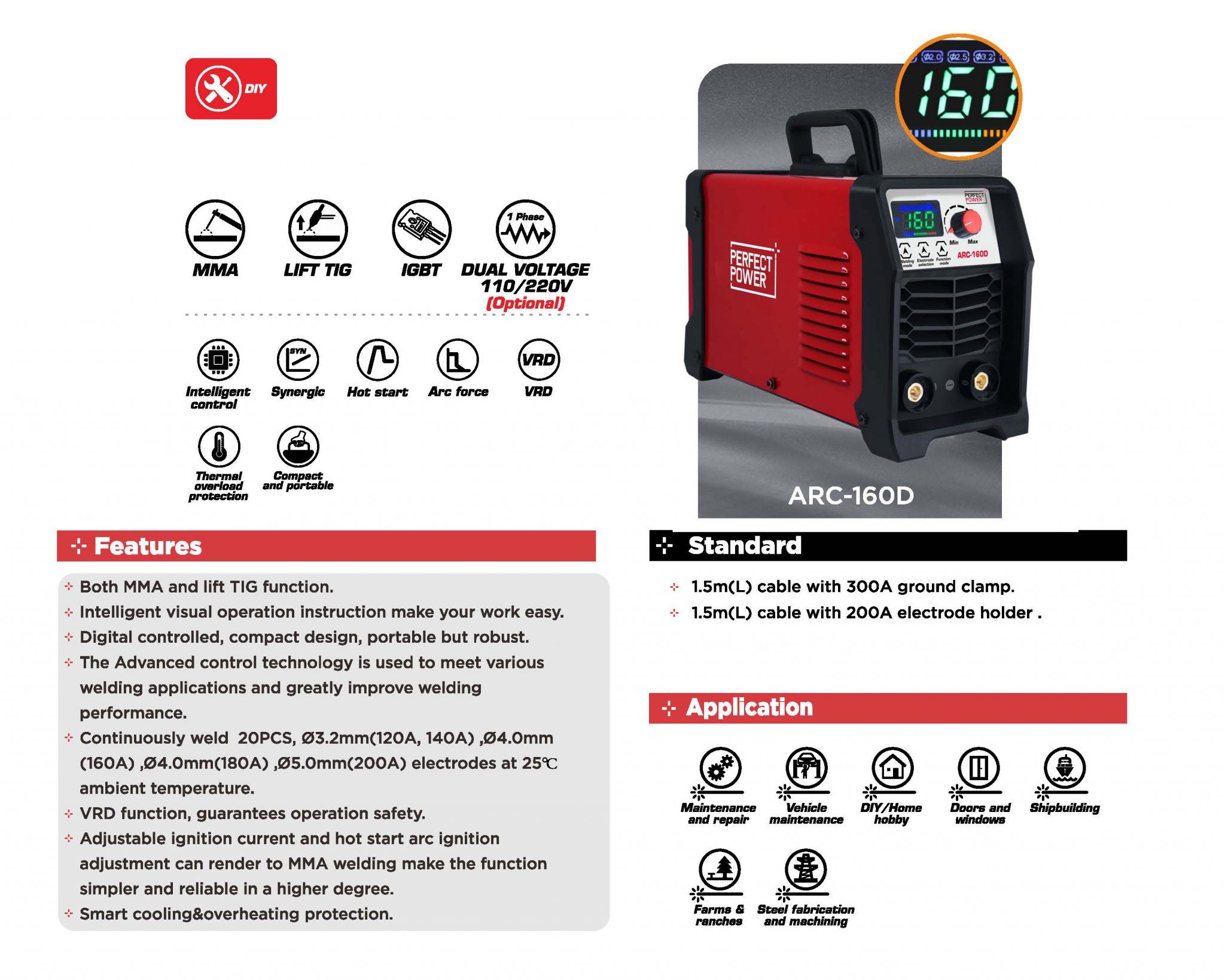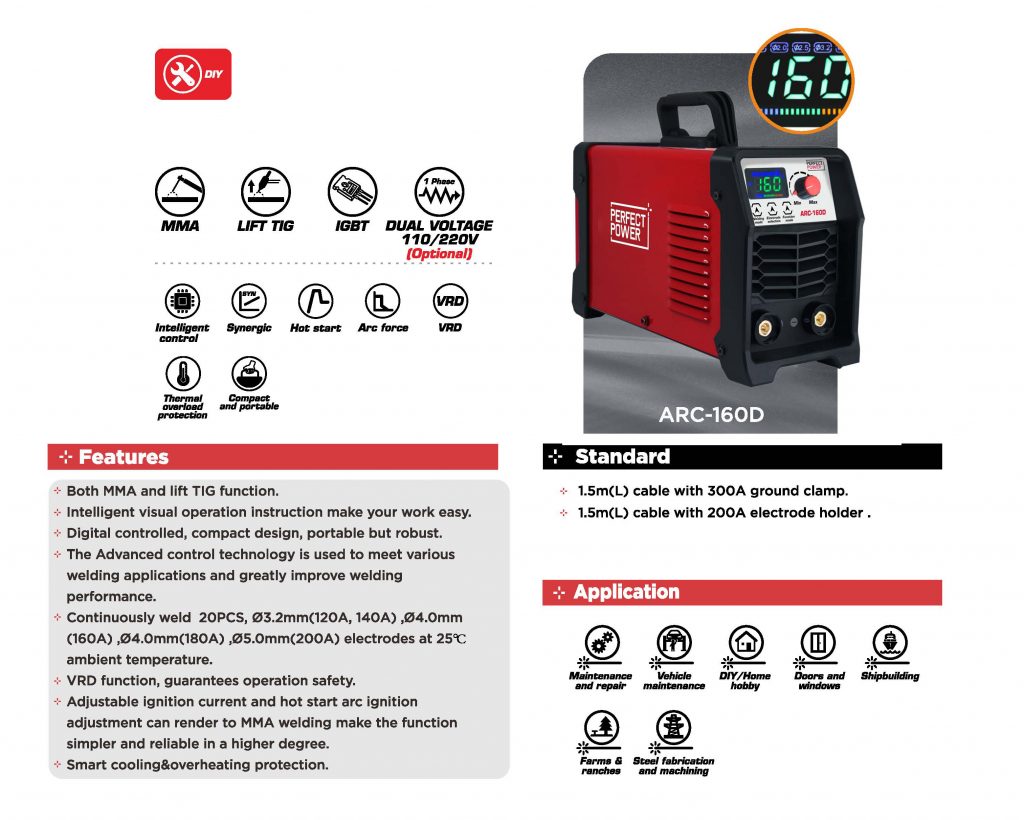 Top reviews for ARC-160D MMA Welder
This tiny guy is good… It welds anything I need it it to. And it is stout.

It is somewhat for beginners and is extremely easy to place anywhere it's needed. Good for practice but also does a stellar job on 1/8 inch steel. It will perform the smaller jobs for the tinker with 3/32 rods. Can't wait to see what it can do on the lift tig…overall a great buy. Started welding right out of the box. Get you a good helmet and gloves and get welding!
Pleasantly Surprised – Good for DIY

I have always wanted to learn how to weld, just to fix things around the house or build small projects. I never realized how inexpensive welders have become, especially the inverter models.

At about $100, I figured I could not go wrong giving this one a shot. After learning to strike an arc, I laid down two perfect beads with 3/32″ 6013, complete with slag peel. Then, I spent the next 4 hours trying to figure out how I did that and sticking the rod nearly every single time.

Once I got the hang of it though, I was off to the races. I have built a bunch of projects, from a workbench and stool to chairs, a drop-down ceiling monitor mount, an articulating wall monitor mount, new shelves for my chest freezer, and more. Plus, I have repaired parts and fabricated new ones for my vehicles, repaired a lockset, and more.

This machine is my go-to tool for repairs, and it runs everything I have thrown at it so far, from 1/16 to 1/8″ 6011, 6013, and 7018. I have not tried 6010 yet, but I will.

The short ground and electrode leads are a pain ( less than 5 feet long! ), plus they are copper-coated aluminum. I upgraded to 20-ft 4-gauge pure copper leads, plus I added an 8-gauge 220-volt welder extension cable for the AC side. It is much easier to use now.

Once I get a bit better at stick, I'll be upgrading to a MIG machine, then TIG. But this WeTools stick welder works great and is an excellent value. I have worked it hard, too, in the sand and dirt, with grinder dust everywhere.
Great for home projects

I bought this to help with home projects that I have around the house and this thing works great. When it comes to doing home repairs, I had a rusted out rod iron fencing and was able to not only use it to help tear it down but also use it to put up a new one. The welder itself is lightweight and easy to carry around. This made it not only easier to use but when working on projects, made it a lot easier to move around outside. The adapter works great and allows me to plug in this welder into a regular plug. Even though the cord on the welder isn't very long, I was able to use it with an extension cord. The welder never tripped any of my breakers either. The amps on this welder go from 20 to 160 amps. More recently, I used this welder to help do body work on an old car. With being able to adjust the amps, I was able to fix and repair all of the body work I needed to do on my car. Whether it comes to fixing a car or installing a rod iron fence, this welder allows me to do anything and everything in between. This welder can't be used with oxygen acetylene but is a great electric welder.