In recent years, MIG/MAG welding has gained popularity and become the dominant welding process, resulting in a decrease in the use of stick welding (MMA). As a result, many welding equipment manufacturers have shifted their focus to MIG/MAG welding and have introduced new features utilizing modern power source technologies.
Although pulsed MIG/MAG welding has been widely used for several decades, only a few devices offer similar welding current pulsing for stick welding. Perfect Power Welders, however, has developed an easy-to-use pulse function for its ARC-200DPS Pulse MMA welding machine. Pulsed MMA welding can stir the molten pool more evenly, avoid porosity, and make the welding firm, and deep penetration. This new pulse function can be extensively applied in various stick welding applications.
This 110v stick welder can run up to 140 amps, enough to weld a 1/4-inch plate. Also, the ARC-200DPS is TIG-capable, giving you a choice of processes for every job. You'll be able to weld sheet metal as thin as 24 gauge, a perfect time to use the TIG function.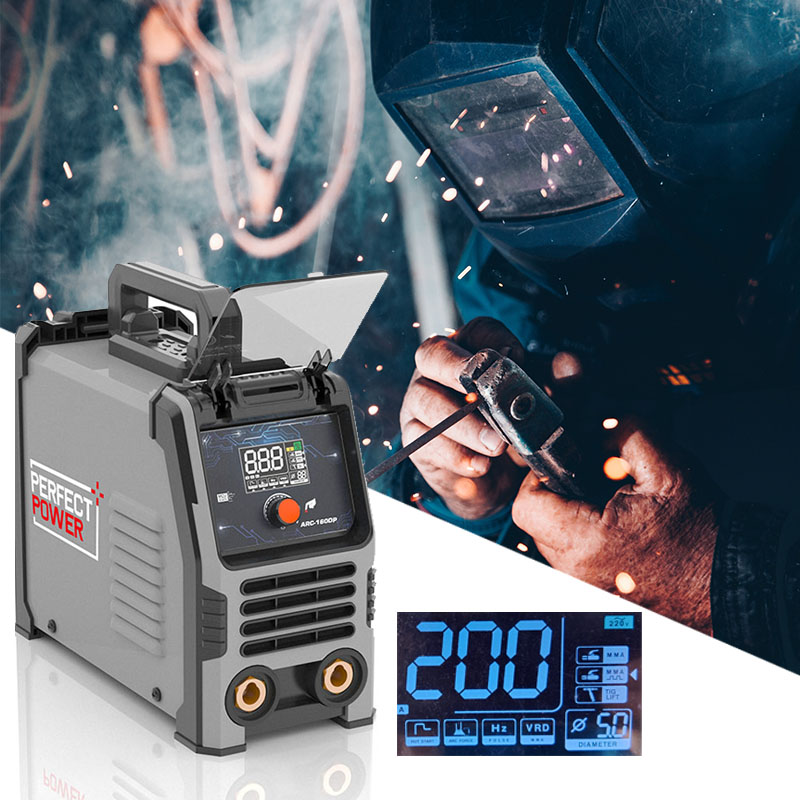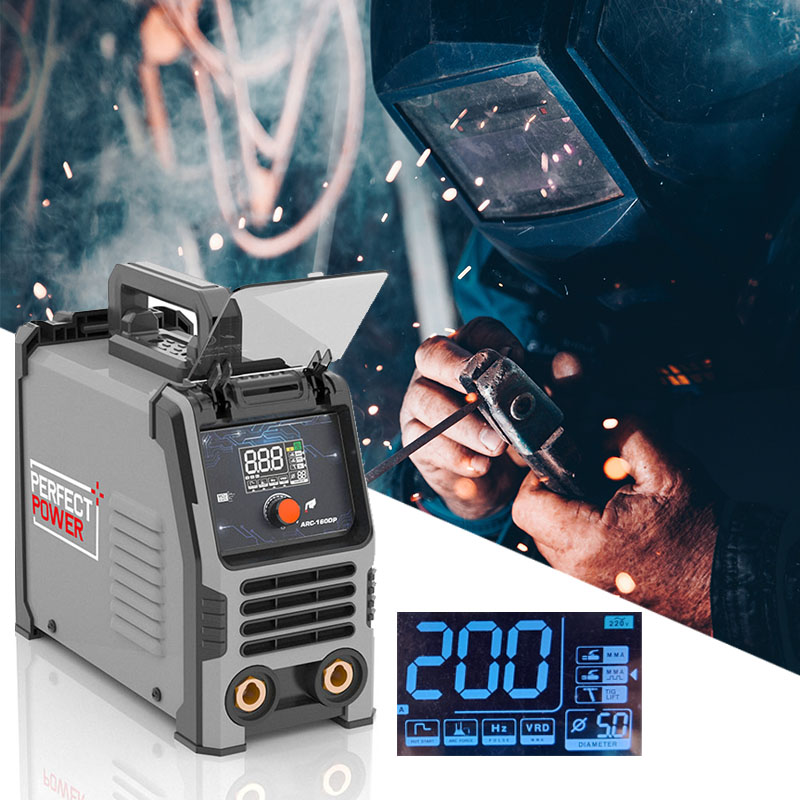 Pulsed MMA Welding
Pulsed MMA welding can stir the molten pool more evenly, avoid porosity, make the welding firm, and have deep penetration. In pulsed stick welding, the welding current varies between two levels at a frequency chosen by the user. The two current levels have been chosen with the idea that both levels typically remain within the electrode's good operating range when the average current is set close to the middle of the operating range. In practice, this means that the lower current level is fixed at 70% of the higher current level and users do not have to manage the ratio. To further simplify the adjustment process, a fixed value is also set for the ratio of the duration of these current levels. The higher current level lasts for 50% of the entire cycle.
Dual Voltage Feature
The ARC-200DPS' lightweight and compact size works well with its dual-voltage input power. Because it runs on either 110 or 220 volts, this is a great machine for those times you're doing repairs for family and friends. Put this little box in the trunk with some leads, and a batch of rods, and you're on your way.
ARC-200DPS includes an adapter pigtail to plug the 220-power cord into a 110 outlet. This convenient small stick welder lets you work just about anywhere because the ARC-200DPS is generator-ready as well.
Voltage Reduction Device
The Voltage Reduction Device (VRD) built into the electrode circuit lets you reduce the stick's voltage when you're not welding. The power at the exposed stick is lowered from 71 volts to not exceeding 24 volts by touching a button. VRD lessens the danger of contacting the electrode when you're working in tight or cluttered places.
Welding Applications
Add a TIG welding kit to your ARC-200DPS, and you can handcraft those fine-quality welds the TIG process is known for, especially on auto body sheet metal. TIG is the way to finish visible joints when appearance is important, especially on an open framework like flower racks, gating, motorcycles, and outdoor furniture.
Digital Powerful Arc-Force
This arc welder 110v/220v comes with advanced powerful Arc-Force, provides smoother welding and deeper penetration, sustains a steady arc, and makes pretty nice beads, especially when welding small current.
Easy to Start Arc
The 110v welder has amazing Hot-Start, which is really ideal for the rods E6013 E7018 E7014 E6011 of 1.6-5.0mm, you just take the rod touching the workpiece, arc striking immediately, and also can handle E6010 cellulose electrode, capable of welding mild carbon steel, stainless steel, and cast iron.
In addition to these application-specific benefits, pulsed stick welding has the following general benefits when compared to conventional stick welding:
Easier maintenance of a constant travel speed, as the pulse frequency sets the welding pace.
Reduced residual spatter.
A smoother weld surface, especially at higher pulse frequencies.
Easier removal of slag.
While stick welding is known for its simplicity, it can be customized to meet the specific requirements of different welding applications. Unfortunately, only a few welding machines offer features to enhance the stick welding process. Perfect Power Welders' new pulsed MMA feature, designed for simplicity, provides added options to many different stick welding applications, improving efficiency, quality, and ease of use.