The Perfect Power MIG-160I Digital MIG Welding Machine (160 AMP MIG Welder)features a 60% rated duty cycle which allows you to weld for six minutes and then rest for four minutes. Uses 0.6-0.8mm flux-cored wire. Perfect for entry-level and professional welders. Includes mig welding gun, 3m(L) 15AK MIG torch,3m(L) cable with 200A ground clamp,3m(L) cable with 200A electrode holder,3m(L) gas hose (hose hoop2pcs).
Features:
Easy to Use and Convenient to Carry
Powerful and Rugged MIG Welding Machine with up to 160 Amp Output
Nice Machine Appearance and Screen Printing
Anti-corrosion & Water Resistant Metal Machine Case
Easy to Read the Numbers of Scale
Test Data Supports Stable Performance and Output Voltage
Protects Components and Transformer from Corrosion and Damage
Adjustable Welding Speed up to 14m per Minute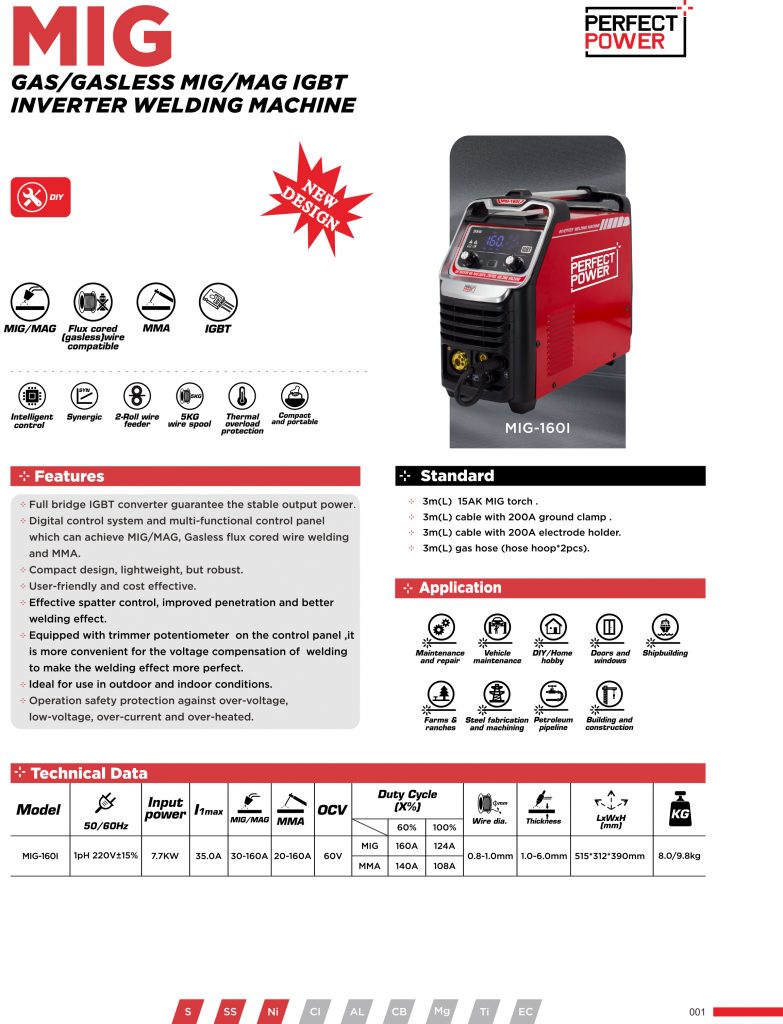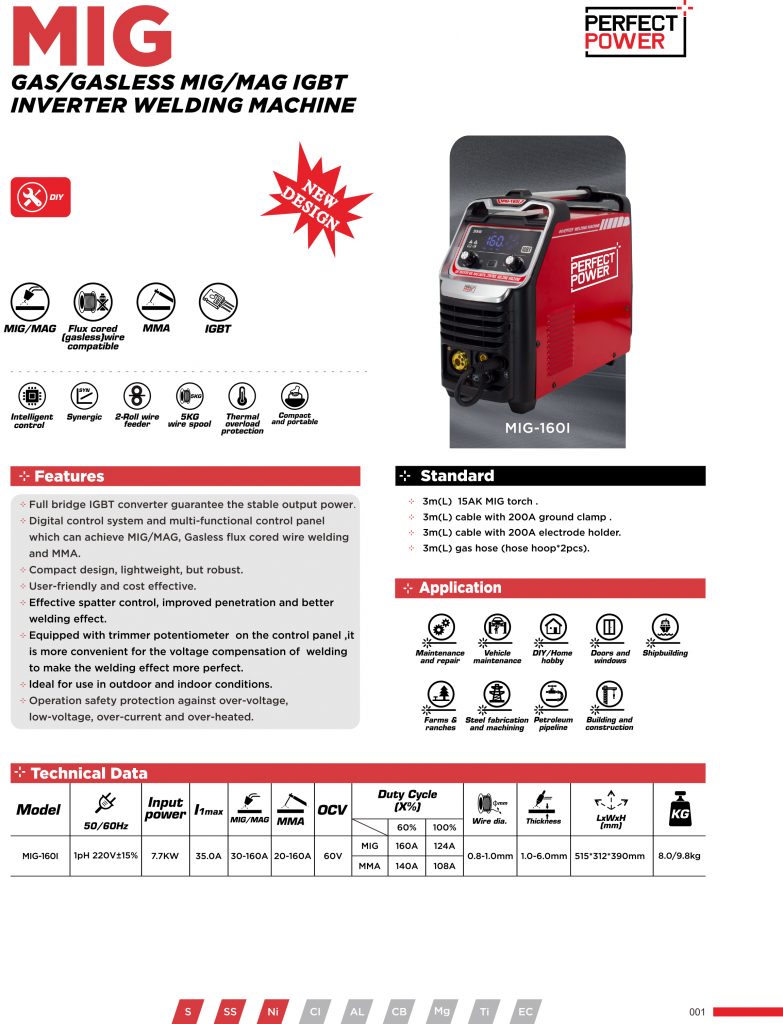 MIG-160I MIG welder GAS OR FLUX CORE: Digital MIG Welding Machine uses 0.8-1.0mm flux-cored wire. Can also be used with a gas setup.
FULL BRIDGE CIRCUIT: Full bridge circuit provides professional-level stability. Make sure to avoid models with only half-bridge circuits. 60% rated duty cycle allows you to weld for six minutes and then rest for four minutes.
ADJUSTABLE SPEED WIRE FEED: Adjust up to 2~14m per minute, dial in the perfect weld. Test data supports stable performance & output voltage. Automatically adjust the inverter pulse width through closed-loop control to ensure output stability.
The multipurpose welder features a convenient carry handle, easy for transport & storage. Very convenient, and can be used anywhere you need. Includes welding gun, ground wire clip (3.0m), brush, and protective mask…
This 3 in 1 MIG welder can meet your needs, no matter whether you are a beginner, hobbyist, or professional.
 Perfect Power Welder is a professional welding machine manufacturer, we aim to provide a better welding tool and make welding easier. If you have any questions, feel free to contact us.